Whiteboard Eraser – Refillable
$10.99 excl GST
Magnetic Whiteboard Eraser with 6 felt pads
Pads hold to the eraser with Velcro so you just peel it off when the pads become full
Product size; 54mm wide, 118mm long, 20mm high
Available in 4 colours
Magnetic Whiteboard Eraser
Related Products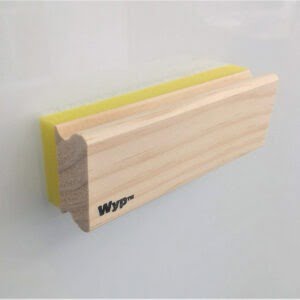 Whiteboard Eraser
WYP ACTIVE FIBRE™ MAGNETIC ERASER
A true product of Kiwi ingenuity, crafted right here in NZ.
The Innovative WYP ACTIVE FIBRE™ pad produces an active cleaning surface using thousands of tiny vertical fibres. The lush rich foam fibre composite pad is coated with a non-absorbent fibre so the ink just brushes off, leaving the surface of the eraser clean for a very long time. No need to ever replace an eraser pad again!
Ideal to use with Glass Whiteboards. The super-strong Neo magnet hidden inside the pad is made to hold to any magnetic whiteboard even magnetic glass whiteboards
Eco friendly timber handle, save our oceans!
The solid timber refreshingly brings nature into your workspace with this natural wooden handle sourced from our sustainable plantations here in NZ!
You'll have the cleanest whiteboard you've ever had! The fibre coating on the foam pad is slightly abrasive, softly cutting the ink from your whiteboard, giving your whiteboard a micro cut and polish in the process. You'll have the cleanest, glossiest whiteboard you've ever had!
not rated
$

14.50 excl GST
Add to cart